Reflexology
Enjoy 30 minutes of reflexology. Stimulating over 70,000 nerve endings in your feet with our Ayurvedic blend of 6 rich oils, combined with evaporated sea salt and Dead Sea salt. Then enjoy the ancient science of manual reflexology, activating and energizing the reflexes found in the feet that correspond to all the glands, organs, and parts of the body.
Just $40 weekday/$50 weekend
Pure Paraffin
Take your treatment at Emerge to the next level of relaxation. Incorporate an additional 10 minutes of pampering without guilt with our mineral free pure parrifin treatment on the hands and feet. Snuggle in warm heated booties while the rest of your body is massaged. This intensely moisturizing blend of palm, soy, jojoba, organic coconut oils, shea butter, vitamin E and the aroma of your choice will deliver nutrient rich moisture, relieve achey joints, and make you feel infinitly pampered. Optional aromas include: Lavender, Peppermint, or Unscented. Our biodegradable and disposable baggies align with our philosophy of being good to the earth.
Just $12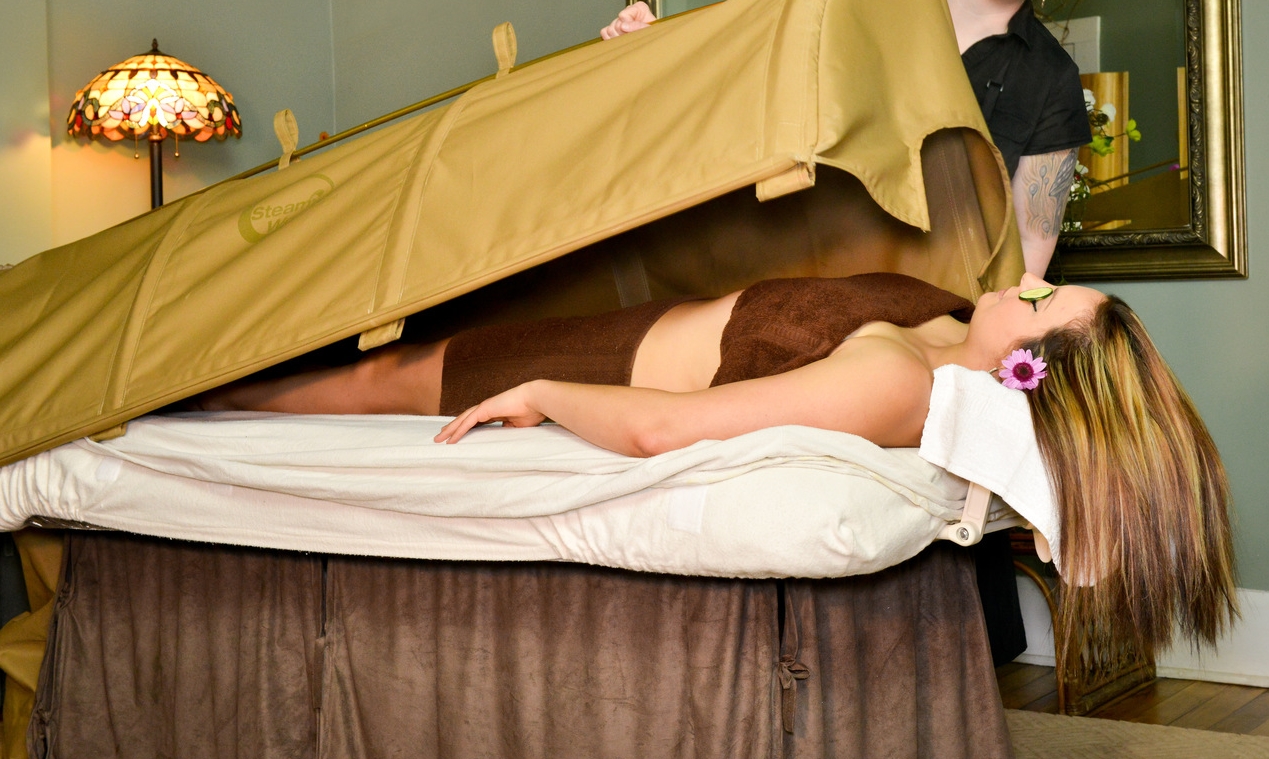 Mini Facial
Our 20 minute mini facial incorporates manual massage techniques, our basic facial system. (cleanse, exfoliate, tone, & moisturize with our organic locally made product line from Aromatic Traditions. This mini manual facial does not include a mask.
Just $25
Steam Therapy
The greatest luxury of our steam treatment is that it is integrated right on your massage table in a private setting without having to move. This moist heat can be scheduled as an individual treatment or integrated right into your body scrubs or wraps and it can even be added on at the end of any massage treatment. Additionally, as recommended by Ayurvedic medicine, your neck and head remain outside of the steam tent and remain cool through the entire duration of the treatment maximizing your treatment time before your body gets overheated. Lying down while receiving the steam treatment has additional health benefits and maximizes blood flow for peak levels of detoxification and immune building response.
Recommend For
Joint and muscle relief, arthritis, rheumatism, joint stiffness, muscle spasms, post cancer clients, drug/alcohol detoxification, fibromyalgia, gout, obesity, general health.
Precautions
Always check with your doctor or health care provider if you have any of the following conditions.
Heart Problems or high blood pressure

Steam treatments can be given in smaller amounts of time and can be built up gradually depending on an individuals response.

Diabetes
Cancer Patients

Steam therapy is recommended as many days in a row as possible (up to 15) for maximum detoxification after you have finished your medical treatments
Contraindications
Pregnant, frail, sick, or elderly
Steam Therapy Prices

| Minutes | 10 | 20 |
| --- | --- | --- |
| Massage | $15 | $25 |
| Body Treatment | $15 | $25 |